What is '30 Days Wild'
The Wildlife Trust is promoting a campaign called '30 Days Wild' which encourages people to engage and reconnect with nature throughout June. With the sun shining, plants blossoming and birds chirping, now is a great time to enjoy some of the health benefits of connecting with nature.
The Wildlife Trust aren't suggesting you go live wild for 30 days (that would really be a challenge for most of us!). They are suggesting that each day for June you do a small activity which helps you engage and reconnect with nature.  You can sign up here, or have a look here to see the kind of activities they are suggesting – they  can vary from following a bumblebee for 30 seconds to going for a walk in a nature reserve with family/ friends. The vast majority of people in the UK live within 6 miles of a nature reserve, and you can find the one nearest to you here.
How is this healthy?
I appreciate that following a bumblebee won't have any direct and noticeable health benefits, but the point of the 30 Days Wild campaign is to help you reconnect with nature on a regular basis (not see the habits of a bumblebee). We as a nation are very disconnected from nature and this does cause problems with our health.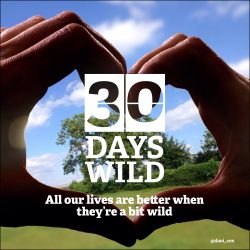 Just being out and about in a forest and getting some fresh air has been shown to boost the immune system and lower stress. There is whole hosts of research into the physiological and emotional benefits of spending time in nature away from the hustle and bustle of modern life. You might find it hard to believe just how relaxing it is, but seriously, don't knock it 'till you've tried it. The 'feeling normal and fine' you claim to feel on a daily basis might actually be quite highly strung, but you have just gotten used to it. The Japanese in particular have embraced the benefits of being out in nature and call it forest bathing or Shinrin-yoku.
The benefits don't stop there though. I was glad to see that one of the suggested activities was 'feel the wild under your feet', because walking around barefoot outside has been shown to have some unexpected benefits on the body including lowering stress and even reducing chronic pain. It might sound like mumbo-jumbo to you, but many people find it being very relaxing having bare feet. I've even met photographers who encourage people to stand bare feet in the grass if they find that having their picture taken stresses them out.
Finally, connecting to nature is also good for the planets health, which ultimately impacts positively on our personal health. The more we engage and appreciate nature and our natural surroundings, the more will be done to protect them and the global ecosystem. As detracted modern lives are from the natural world, we are still 100% dependant on it for our health and survival.
Going Wild…
I will of course be 'going wild' for 30 days, and will update the things I get up to on a weekly basis below.
Week 1
Only 3 days into the 30 Days Wild campaign, and with the kind of weather we've had recently its hard to not spend some time outside. The sun is shining, and like a typical Brit, you need to make the most out of the sun whilst it lasts. Whether you had a BBQ in the garden or went for a stole in the park, its all part of engaging with nature – so well done!
If you haven't been outside yet, don't worry, but with the weekend upon us, it is a good opportunity to get out there and enjoy the weather and nature.
Week 2
10 days through the 30-Days Wild, so a good time for an update on some wildness activities that I've done from the Wildlife Trust wall chart:
'Watch a

wild webcam

' – at the moment it is showing foxes, owls, goslings and badger cubs. Its worth leaving these webcams on in the background because most of the time there is quite little activity
 'Feel the wild under your feet' – Walking barefoot outside is something I will do most days anyway, and with the temperature so hot, nothing feels better than letting your feet breath on some nice cool grass.

'Dangle your feet in wild water' – Despite the weather being warm this particular Welsh river was freezing cold. I like playing in rivers, but didn't spend too long in there! The cold didn't seem to bother my canine friend at the some though.
'Identify a wildflower'  I am hopeless at identifying flowers, but fortunately my sister is much better at this kind of thing, and has informed me that the flower below is hawthorn.
'Lunch in the wild' – getting a picnic blanket out and having lunch outside is a welcome change to the gloom of indoors.
'Sip in the wild' – A cup of tea in the morning before you start your daily routine of going to work or even do relax a little after work is refreshing and relaxing.
'Read a book in the wild' – The book wasn't particularly about wild creatures, but a quiet and peaceful setting is ideal for relaxing and having a read.
So far, 10 days, and 7 wild things. Its been a great relaxing week with the wild, but the coming week I plan on having a bit more of an active role in the wild.I will be updating in a weeks time.
Image courtesy of Peter Roome.