I was lucky enough to get my hands on a GoPro Hero3+ just as it came out (it was so new we actually had to upgrade our order on the same day).
The GoPro cameras are built with the purpose of recording sports in high quality, particularly extreme sports. This review is based on my initial experience with setting up the camera, and using it for my first half marathon (not the most extreme sport I know, but it did give me a solid 1 hour and 56mins of playing with the camera while running).
I recorded the race on a head mount, and you will be able to see the video (sped up) at the bottom of this post. If you have a look at our YouTube channel, you should see more videos of us using the GoPro.
Features
Photo/ Video – The GoPro Hero3+ is capable of recording from 720p – 4k, 30FPS or 60FPS, taking still photos and burst photos (of up to 30 a second). The lens of capable of capturing in wide (which I used for the the race) and super-wide. If anything, this is more than I could want!

Case/ accessories – As with all GoPro's, the camera is held is a clear plastic case which securely attaches to all the mounts. The plastic case protects the camera and doesn't obscure any of the video footage, and to be honest, you really cannot tell it is there in the videos. There seems to be a specific mount for all types of sports – board mounts, head mounts, chest mounts, pole mounts, wrist mounts, helmet mounts etc. I love the variety of different camera mounts as you can really chose which angle is best for you.  The GoPro Hero3+ also comes with a remote control, allowing you to control the camera and trigger burst photos or video as you come into range. The variety of accessories makes filming and taking amazing photos possible for almost any sporting situation.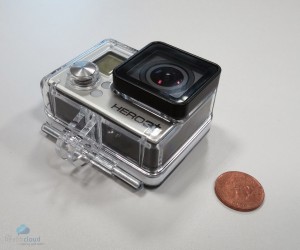 Size/ Weight – The weight of the GoPro is only 135g (and that is with the plastic case). This makes it 20% lighter than the previous models. I have not used the previous GoPro cameras, but the GoPro Hero3+ is also 20% smaller. You can see form the pictures next to a penny how compact it is.. A concern for the half marathon was that running for nearly 2 hours with a camera on my head would start to get uncomfortable and annoying, especially as I sweat, but I have to say it was barely noticeable. It was so light that I didn't find it annoying to have on my head, and the head mount strap was very  comfortable.
Mic – The audio quality is amazing for such a small camera. You can hear everything very clearly, and there is also 'wind-noise reduction technology', which I am sure helped. You can hear the audio in the video at the bottom of the page.
Performance
Camera – Definably the most important feature of the GoPro, and I was not disappointed at all! I recorded the half marathon in 1080p (not 4k which is the highest), and was very impressed with the quality. My favourite thing about the GoPro's camera is not the quality though, it is the lens. You are able to record in 'wide' or 'super-wide', giving the video a fantastic view of everything. I recorded the race in 'wide' (as recommended), and the field of vision in this mode was pretty much the same as my eyes. The result on the video was amazing, and really gave watchers an idea of what I was seeing. Most cameras do not have the same 'wide' lens, and as a result the final video misses the sides of the field of vision, reducing the experience recorded. I really cannot fault the quality of the camera.
Accessories/ Mounts – Having a camera mounted on your head for nearly 2 hours whilst running is surely a great test for how comfy the head mount is. I must admit, it was something I was a bit worried about, especially when I started sweating, but actually the head mount was quite comfy. The strap is secure and padded, and the camera is so light that you can hardly tell it was there. Of course, not having the head mount would have been more comfy, but if you want to record an activity from a head mount, this was a surprisingly nice experience.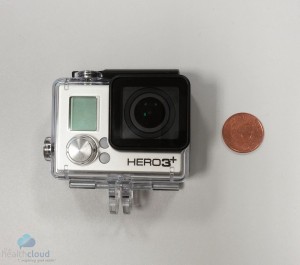 Battery – The battery on the GoPro Hero3+ last 30% longer than the previous model, and at 1080p with 60 FPS I think I could get just over an hour and a half of recording. During my run I had the camera turned on the whole time, but only recorded sections, knowing that I was unable to record the whole 2 hours run. I still had some battery remaining at the end, but I don't think it was much. I wouldn't try and get more than 90 mins of footage at 1080p, which is more than enough for most sports I would have thought. Higher resolutions and more FPS will obviously reduce battery time, and lower resolutions/ reduced FPS will increase battery time.
Mic – Audio quality is very good. It isn't something I am particularly bothered with, as for me, the visual performance is most important, but I cannot pick fault with the mic
Usability
With only a 'power' button, and a 'function' button, there is nothing complex about the GoPro Hero3+. Using it is very easy (you just need to remember which button is 'scroll' and which is 'select'). This can only get annoying when you scroll past the mode you want you need to scroll through everything again. Not a big deal I know, but a couple of times I wished there was another button. Aside from that tiny issue though, it is very easy to use, from fastening into a mount to putting the video on your computer.
Value
This is an expensive bit of kit, there is no doubt about it. I would say that the GoPro Hero3+ is worth the money, the quality is simply amazing. However, the only set back is that the accessories (camera mounts in particular) are all quite pricey too. If you want to buy a variety of mounts (as I'm sure many will) then it really can get very expensive. This said, the head mount was comfortable, so I cannot really complain. I would rather have a comfy head-strap and pay the price I did, than a cheap head-strap which hurt.
SD card and memory
The GoPro does not come with a micro SD card, or any form of memory, so you will need to buy one before you record anything. This is something we didn't actually think about until we bought the camera… Also, as the GoPro records at such a high quality, it needs to put lots of data onto the SD card very quickly, therefore a micro SD card with fast write speeds and a lot of space is needed, otherwise the card simply won't work. (we tried a 2GB card with a slow write speed and the camera didn't think there was an SD card in). The race was recorded on a 16GB card, and it took up most of the space, so for future recordings we have bought a high speed 32GB card which is recommended on the GoPro website. This cost us around £30, again, another expense, but the last thing you want is to run out of space on the memory card.