Trying to get kids involved in health is important, but it can be a difficult challenge for many parents. For children, exercising isn't a problem, children are always running around because it' s fun, but food rarely is fun, so how can you make food a game or fun?
I was speaking to a friend (who has had their 4th child recently) about how he gets his kids involved with what they eat, and his family have come up with quite a simple game for their kids, which I felt was worth sharing:
The parents alternate making the evening meal, and during the meal, the children give marks out of 100 to the parent who cooked the meal (sort of like a master chef), and the different foods in the meal are discussed. At the end of the week, the scores are tallied up and at the end of the week there is a winner, and possibly a prize that everyone will enjoy 🙂
The benefits of this simple game are:
There is always thought and effort put into the evening meal in order to make it exciting for the children.
The children learn about their food and don't see it as a chore, and the parents can easily see what foods the children enjoy.
Vegetables are presented in a variety of ways, which allows both the parents and children to identify which foods they like – you might be surprised!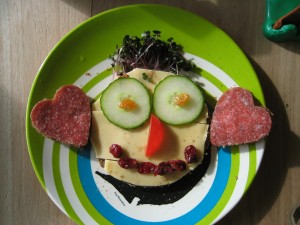 Having children take an interest in eating and enjoying it can really make a big difference on how they perceive food.
Points systems seem to work well with kids, and rather than having the kids score you on food, you can give the kids points for various things such as a point for every colour they eat and/or one point for trying a new food. You could have a weekly prize for a cumulative score.
This reminds me something my Mum used to do for me and my siblings when we were little – Fruit Faces! Not some much a game, as just making eating fruit fun, you can get quite creative with some fruit. Sometimes we would make them, but somehow they always looked better when Mum made them… It definitely made fruit fun though! It is also a great way to get kids to eat a variety of fruits.
If you have any ideas on how to get kids more interested and involved in health please share in comments!
Images courtesy of bentomom and robertwebbe