I was recently asked to review some Natural and Fruit Energy Bars made by Multipower UK. I was told that these bars are fruit based, and all natural, so I was quite keen to give them a try!
The bars I have been sent to review are:
Nature's Power (cranberry & strawberry)
Nature's Power (salty cocoa)
Nature's Power (honey & seeds)
Fruit Power (tropical)
Fruit Power (original)
Nutritional information & label
When the parcel arrived the first thing I did was look at the ingredients list, and was disappointed. For a bar which claims to be made from natural ingredients, I had hoped to see an ingredients list similar to that of other all natural bars I have tried like this:
Instead, the ingredients list for the first bar I tried, called Nature's Power (honey & seed) was:
I don't consider a lot of those ingredients to be natural. I know technically everything is natural – everything is ultimately made from natural ingredients, but when I see 'natural' on a label I assume that the ingredients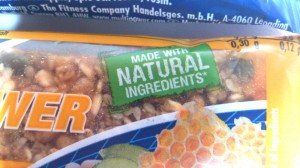 aren't heavily processed beyond recognition. In the first example I can very clearly see what each ingredient is from – most are fruits, some rice and a bit of salt from the sea – nothing artificial, and nothing heavily processed. However, in my Nature's Power (honey & seed) bar, I see things like humectant glycerol and invert sugar syrup – What plant or animal did these come from??? All these ingredients are followed by an astrix to indicates they are actually naturally sourced, however, I feel that this is a bit misleading.
There is also a surprisingly small amount of honey or seeds in it, I mean c'mon, in a bar with 'honey' in the name, there should be more honey than glucose syrup and invert glucose syrup!
I had a look at another bar – the Original Fruit Power bar, which claims to be 65% real fruit. Here is the ingredients list:

This ingredients list is much better than that of the honey and seed bar, although it still contains ingredients which I wouldn't consider to be natural. I also can't see where the 65% fruit comes from, I can only see 38% from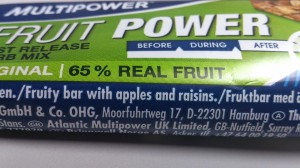 raisins and apples, unless they are claiming that the missing 27% is made up from the apple juice (from concentrate)? If they are (which is the only thing I can think of), it is again misleading. Apple juice from concentrate is very different from an apple, for starters, it is highly concentrated in fructose and contains no fibre. You will find all nutritionists and dieticians say that fruit is healthy, whereas fruit juice from concentrate isn't.
It is a similar story with all their bars, so I won't go into any further detail with the labelling – needless to say I am disappointed.
Taste/ Flavour
Taste of the product is always important, so after trying each flavour here are my thoughts:
Nature's Power (cranberry & strawberry) – tastes like strawberry jam with rice crispies. Very sweet but not unpleasant.
Nature's Power (salty cocoa) – Nice, not at all as sweet as the previous one, so a good choice if you don't have a sweet tooth. Chocolate taste is very mild, and the salt taste is a bit too much for me.
Nature's Power (honey & seeds) –  Not very sweet, and did taste quite seedy which was nice. Couldn't taste much honey.
Fruit Power (tropical) – Very sweet, it was quite fruity, but the over powering taste was sweetness. A bit sickly.
Fruit Power (original) – Another sweet one, but not as sweet as the tropical. You get the chewy bits of the raisins to add texture to it which is nice. I think this is my favourite flavour.
Overall I would say that the flavours are not overwhelming, but other than the Tropical flavour (which was just too sweet), there was nothing wrong with them.
Fulfilment of purpose
These bars are designed to be eaten after long periods of cardiovascular exercise, at a point your body will be low on energy. These bars provide around 20-30g of sugar, which will help you to get your energy levels back quickly. So they will be able to fulfil this rather well, but to be honest, that is all they have going for them, but if that is all you want out of them, there is nothing to complain about.
I tried one of these after doing some intense cardio, and it was nice to eat, but I didn't feel satisfied until I ate my lunch. So alone, I'm not sure they are enough.
Multipower energy bars vs banana
With energy bars, this is the ultimate test – when I think of a convenient source of energy I always think of a banana, because they are a natural source of energy and can be carried easily in a bag. If I was going to keep using these bars, they would have to be better than a banana.
These energy bars do contain more sugar than banana, nearly twice as much sugar in fact, so they could replenish energy levels better. But they don't contain any other nutrition, whereas a banana provides you with significant amounts of potassium, vitamin C and a whole host of B vitamins, and does taste much nicer than the energy bars.