My first proper pair of running trainers were the Nike Frees which are transitional trainers to bare-feet running. After running in them for about a year, I decided to give bare-feet running a go, and got a pair of Vibram 5-fingers.
First impressions/ trying them on
They are really hard to put on! Your toes are all over the place – 2 are trying to get into one toe section, or scrunching up between sections, and you cannot tell where your toes are without using your hands. Once on my feet though, they felt really comfortable. The first pair I tried were the KSO Evos (which replaced the classic KSO), and are designed for road running, and even though I had worn the Nike Frees (which are meant to prepare you for bare-feet running), it felt very strange, but in a good way. The freedom your feet have is amazing.
I tried on a couple of other pairs on, and finally decided on the Bikilas. These felt even more comfortable then the KSO Evos, and although they have a bit more of a sole on them (suitable for road and soft trail running), my feet felt much more flexible and free.  My expectations were high after doing so much reading about these trainers, and so far I have not been disappointed –  they feel comfortable, light and strange (in a good way).
Overview of Vibram Bikila
The sole of the Bikila is quite a bit more durable, and has more grip than the KSOs, but this doesn't detract from its flexibility. They lack the stone guard and extra grip which the trail Vibrams (Spyridons) have so they are not suitable for serious off-roading, but for a country path or pavement they are ideal. Think of them as a half way between the KSO and Spyridons. They still have a thin sole, so you still get the feel of the ground beneath your feet – just what I wanted.
The Bikila fasten up with a draw string type lace which works well, and tighten the trainer to your feet to really give you a second skin feel. The great thing about the draw string is that they don't loosen or come undone like conventional laces do, which means that you won't be stopping your exercising to tie you laces up.
Breaking them in
As conventional trainers encourage heal striking (as opposed to toe striking), when you first start running bare-feet you are recommended to take it very gradually. Vibram actually recommend that you take up to 13 weeks of gradually introducing them into your training routine. This is to ensure that your feet muscles, calf muscles and tendons are able to adjust and strengthen. If you have been using conventional running trainers from a long time these muscles will probably have weakened, and you need to gradually strengthen them. I have heard stories of experienced runners doing 10km in their new Vibrams, and then needing to take 2 days off sick because of DOMS. I didn't want to be one of those guys, so to begin with, I wore them around the house/ at work/ outside – I just walked around in them. The first day I did this I felt a slight strain in the arch of my left foot, but this quickly went away. After a couple of days of walking in them with no discomfort I decided I would try some very short runs in them, and wore them for the Primal Blueprint Work out of the Week 2, which includes 8 x 50m sprints (see the video bellow).
Sprinting really did feel amazing, and surprisingly natural. I had thought I would need to think about running on my toes, but it happened very naturally. After the workout my feet felt fine, but I decided that it was best to give them a rest for a day just in-case.
As I didn't feel any discomfort from that workout, and I had had a days rest, I decided to do a short jog (1km or 1/3 of a mile) in them around the park. Surprisingly this felt very different to doing sprints. The first thing I noticed was the ground, as I was running on pavements this time and not grass. I was able to feel everything from contours to small bits of grit, and it felt really hard on my feet. Nothing painful, but a completely different feel for my feet which are used to being cushioned whilst running. I also noticed that I had gone back to heal striking with my jogging. I have no idea why, after I naturally went to toe striking in sprinting, maybe it was just force of habit, but I really had to think about focusing on toe striking – it didn't feel very natural this time.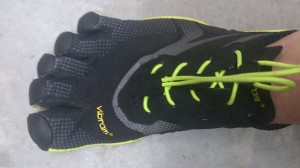 I managed to do the 1km mostly with toe striking, but it all felt very alien. Usually I'm very good at pacing myself, and I know what speed I will comfortably run at, but this time I had no idea if I was running faster/ slower than usual – it was a very different experience to running with my Nikes, and it did feel wrong. I also noticed that my strides felt shorter than usual, but this is is quite common for bare-feet running.
1 Month later
I'm still breaking them in, and can now do about 3 miles in them comfortably. Any further than this starts to strain my calves, so it does look like you need quite a long transition time. I now naturally run with toe striking without thinking about it, and running in them now feel very natural. It is to be expected to have some teething problems with new trainers, but don't give up on them. I still run in my Nikes for longer distances, but in comparison, my Vibram Bikilas are much more comfortable, and other than feeling my calves strain (which is to be expected), I have not had any ill effects from them. All in all, I am happy with the transition into bare-feet running.