I was first handed a pouch of 'Body by Vi' mix a few months ago. That was the first time i heard of it, and it looked like any old meal replacement shake. I didn't think much of it, but since then it seems to have grown in popularity, so I thought I'd take another look at it and explain how it works.
Body by Vi is basically a meal replacement powder, which you add water to and drink, there are a few different types of formulations and the general idea is it will help you lose weight. On the right is the ingredients list for the Vi-shape product, which is advertised as a healthy meal replacement or post work out meal to support lean muscle gains.
The product list doesn't look too bad, 12g of protein (most from soy though, where as most people will prefer whey), almost no sugar and 30% of many vitamins and minerals. It is a slight concern of mine that you cannot see which form the vitamins and minerals are in (i.e. vitamin K1 or K2, magnesium chelate or oxide etc), but, that might just be my picky nutritionist side talking.
Vi by Body advertises the product as a 90 day challenge, and if you don't see results at the end of it you get your money back. So for the 90 days you replace one meal a day with this shake and exercise.
Does Body by Vi work?
There is no doubt in my mind that, if you stick to this plan, you will lose weight. But this isn't because this is a special 'magical' formulation, (after all, it doesn't contain any fancy nutrients). You will lose weight because it is only 90 kcals per serving. Most meals contain between 500-700 kcals which equates to 1500kals – 2100 kcals a day from your 3 daily meals. If you replace one of these meals with a 90 kcal shake, you instantly will be in a calorie deficit by 410-610 kcals a day. This will cause your body to use fat stores, resulting in weight loss. So certainly, in theory it does work and by the 90 days, you will have lost some fat (unless you have been doing some serious snacking).
Is Body by Vi healthy?
A calorie deficit of this much is not healthy. I certainly would not recommend it to anyone I know. As a general rule, healthy weight loss which preserves muscle is a 300 kcal deficit, anything more than that is unhealthy. I would say that using these shakes is slightly better than starving yourself.
And I must come back to the ingredients list again, because although on the website it states all ingredients are natural and the best, it doesn't state the form of these micro-nutrients. This gets my alarm bells ringing, they might be in the best biological form, but surely they would say that they are if its true? So I don't think the nutrients are particularly good, and probably not easily absorbed.
Will you keep the weight off with Body by Vi?
Unlikely. This is the other reason people don't recommend a deficit of more than 300 kcals – not only is it not healthy to go lower, but you are much more likely to 'bounce back', and experience what many call yo-yo-ing. You will have to try very hard to keep the weight off.
Another massive problem is that after the 90 days of hard work and avoiding chocolate cake etc, I bet everyone has a massive pig out.
Are Body by Vi testimonials true?
Body by Vi is a network marketing company, which allows anyone to become a distributor and sell the products themselves, and encourage others to become distributors. The more distributors someone gets, the more money they make. So it is in a massive amount of peoples interest to encourage others to use these products. These distributors are not nutritionists, and probably have very little health knowledge, and, in my experience of people who are involved in network marketing, will say anything to get you to buy.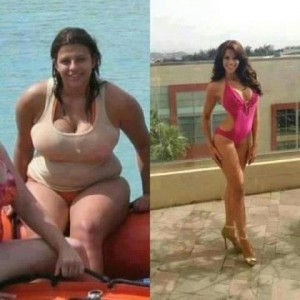 This is one of their promotional photos, do you think these really are the same person from 90 days of drinking a shake instead of a meal? Nope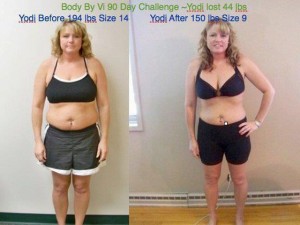 This is probably a much more realistic result. Weight loss, but it hasn't transformed you into a model.
To summarize the Body by Vi diet…
It contains nothing special or exciting which will help weight loss
It is probably made with cheap low grade raw materials
If you do stick to the diet, you will lose weight
It isn't healthy
You might not keep the weight off
Some testimonials are pretty suspicious.
…I wouldn't recommend this.
Image courtesy of las – initially